OVERDOSE PREVENTION CENTERS:
BASIC INFO & NEED IN MA
---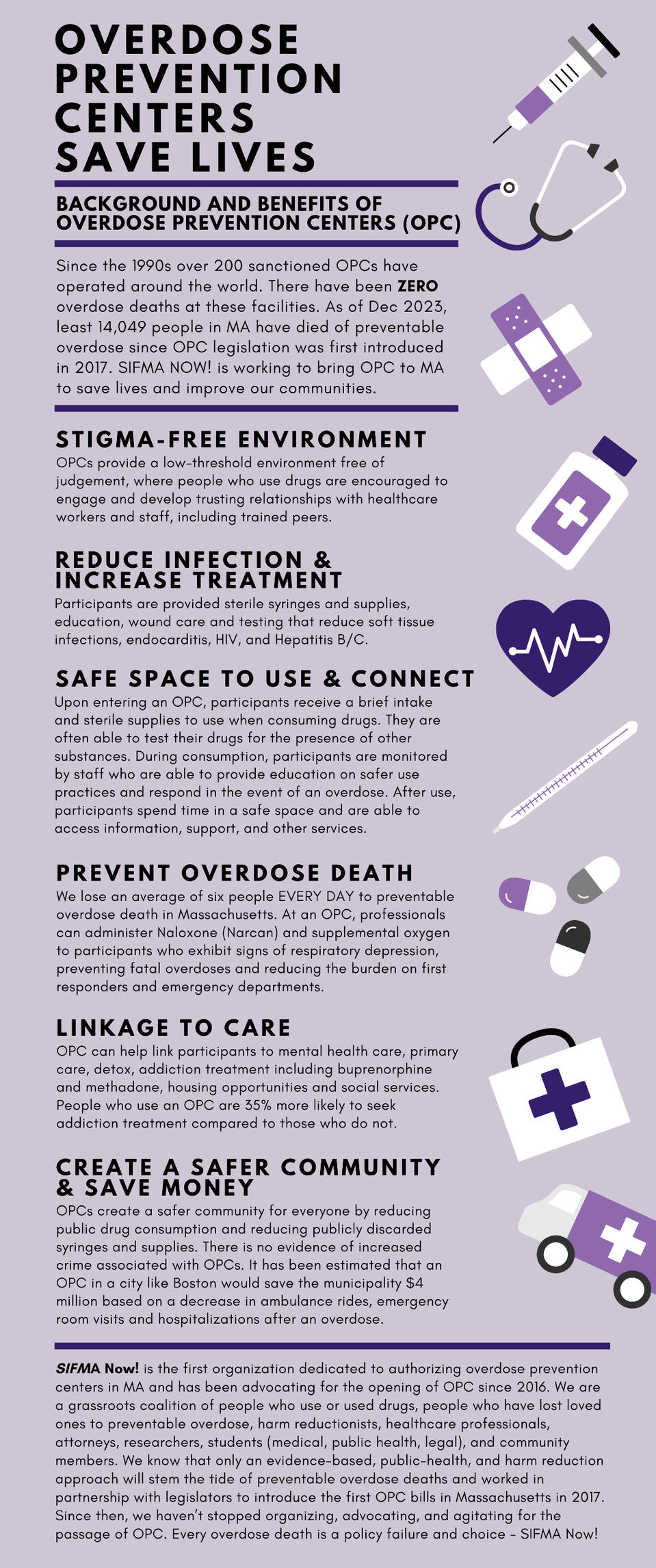 Overdose Prevention Centers (OPC), also known as Supervised Consumption Sites (SCS), are a proven harm reduction strategy. Government-sanctioned OPC have existed for over 30 years. Today, there are almost 200 OPCs around the world.Cities and States across the United States are finally beginning to embrace this evidence-based harm reduction strategy, with OPCs open or opening in two states and 17 additional states considering passing legislation. Rhode Island is slated to open the country's first state regulated OPC in early 2024. And in November of 2021, New York became America's first state to operate an OPC. After a year and a half in operation, there were over 68,000 site visits, and staff had reversed nearly 850 overdoses. In an early evaluation of the OPCs, participants reported that had they not had access to the sites, they would have had to use in a public or semipublic location. An adjacent playground that was closed down because of abandoned syringes has been reopened and is currently being used safely by neighborhood children. This data reveals the tremendous need and impact of OPC.We must take action to stop preventable overdose deaths in Mass now. There has never been an overdose death at OPC. Extensive peer-reviewed research shows that OPC address multiple public health concerns and result in fewer overdose deaths and hospitalizations, decreased spread of HIV and hepatitis C, and increased access to primary healthcare and addiction treatment services. For those with concerns about "neighborhood beautification" issues, OPC are shown to reduce public drug use, stray needles and litter, and low-level "crimes" (often now decriminalized under best-practice policy) related to drug use.
TAKE ACTION TO SAVE LIVES!
---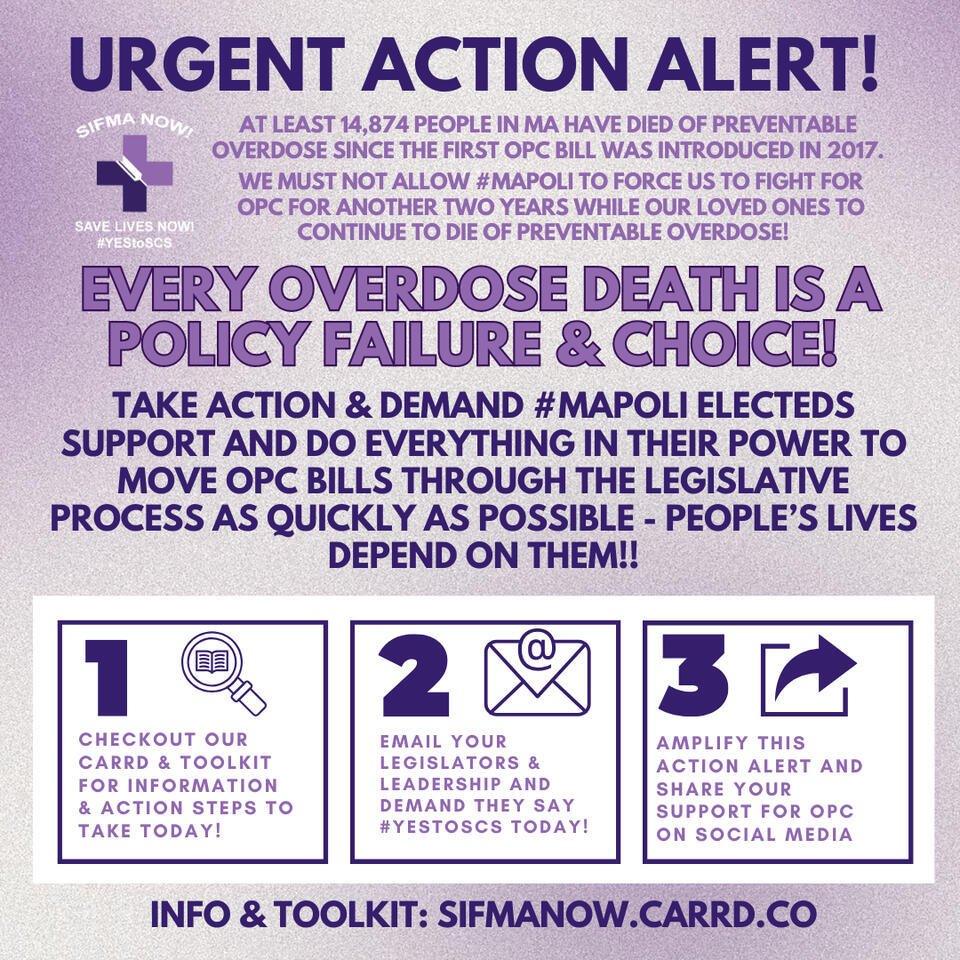 TAKE ACTION!SIFMA Now! worked in partnership with legislators to introduce the first OPC legislation in Massachusetts in 2017. This resulted in the establishment of the MA Harm Reduction Commission in 2019, which recommended the opening of at least one OPC in the Commonwealth as a pilot. In 2022 there were an estimated 2,357 opioid-related overdose deaths in Massachusetts. This is a 9% increase from the 2,300 lives lost to preventable overdose death in 2021. Black people who use drugs experienced a 42% The War on Drugs is a war on Black and brown communities. At least 12,794 people in MA have died of preventable overdose since OPC / SCS legislation was initially introduced in 2017. A public health and evidence-based response, not criminalization, is desperately needed to save lives.
---
ACTION OPTIONSYour voice matters! Your experience, perspective, and support can influence the priorities of a new administration. Any contact you make demonstrates broad support for OPC from people who use drugs, business owners, medical professionals, law enforcement, and community members! Help us pressure Governor Healey to use her executive powers to save lives by sending a personal email.
Email Governor Healey to share your support of OPC & urge her to show true leadership and authorize OPC by executive order - people's lives depend on her.

Email your legislators, the MHSUR Committee Chairs, and leadership to share your support of OPC legislation and urge them to move OPC bills through the legislative process as quickly as possible.

Amplify this call to action, show broad support for OPC, and pressure #MApoli elected leadership to do everything within their power to authorize OPC in MA to save lives now by sharing on social media.
ACTION RESOURCESSample emails, talking points, and social media graphics and messaging can be found in our advocacy toolkit.
Context in Massachusetts
Preliminary data from the MA DPH shows 2,357 people in MA died of preventable opioid-related overdose in 2022. This is a 9% increase from the 2,300 lives lost to preventable overdose death in 2021.

Data just released by MA DPH shows overdose deaths among Black people who use drugs rose 42% - more evidence that the war on drugs is a war on Black and Brown people.

We lose 6 community members a day to preventable overdose in MA - no one has ever died at an OPC.
Benefits for people who use drugs
OPC reduce fatal overdose – there are almost 200 OPC worldwide, and no one has ever had a fatal overdose in one

OPC reduce HIV, hepatitis C, and other injection-related infections

OPC help people access substance use disorder treatment

People who use an OPC are 35% more likely to seek addiction treatment compared to those who are not.

OPC improve access to harm reduction, health care, and social services

OPC provide a caring, safe space to access care and services
Benefits for the community
OPC reduce fatal overdose – nearly everyone knows someone who died of overdose. None of those people had to die. Every overdose death is a policy failure.

OPC save public money

OPC reduce publicly discarded syringes

OPC reduce public drug use, drug use in business bathrooms, etc.

OPC improve neighborhood security

OPC reduce the number of sedated people on the street, in bus stops, etc.
HEAR FROM PEOPLE SAYING #YESTOSCS IN MA!
---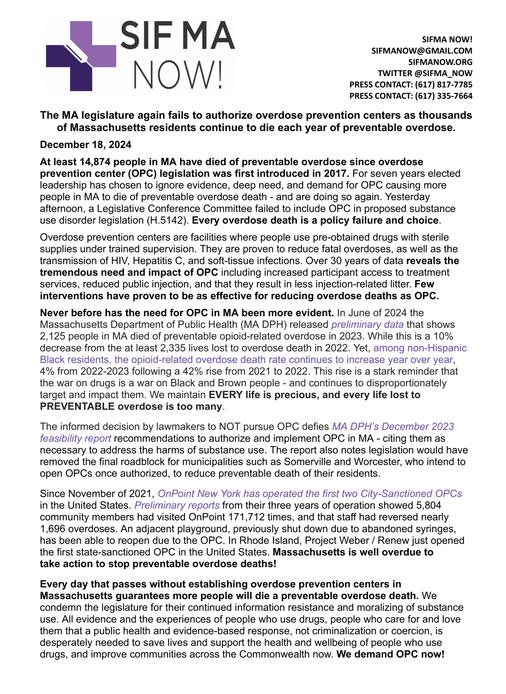 On June 22, 2023 the Massachusetts Department of Public Health released updated fatal overdose data. Predictably, the number of people in MA who died of preventable fatal overdose continued to climb. You can read our press release here .
In July of 2020, dozens of medical providers, people who use drugs, harm reductionists, legislators, family members who lost children to preventable overdose, and community members converged on the State House demanding the passage of OPC legislation, which would authorize OPC in MA. Hear them share why we need overdose prevention centers in MA now!
What's Stopping Us? Safe Consumption Sites Work! is an 8 minute short created by SIFA Now! member Bill Fried. It emphasizes the efficacy and need for overdose prevention centers in MA and features people who use drugs, medical professionals, family who have lost loved ones to preventable overdose, and elected officials.